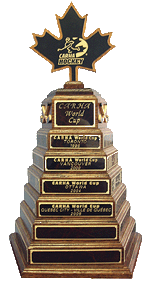 CARHA Hockey World Cup 2008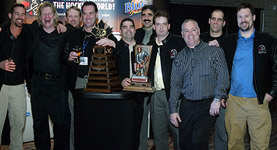 In 2008, Quebec City will celebrate its 400th anniversary and among the many festivities during this very special year, will be the hosting of the Labatt Blue CARHA Hockey World Cup tournament.
Ranked among the top ten tourist destinations world-wide, Quebec City will offer Labatt Blue CARHA Hockey World Cup participants much to explore and enjoy during their weeklong stay. From the countless historical and heritage sites to the beautiful architecture and European elegance, Quebec City will offer a magical experience for all players, coaches and their guests in March 2008!
The Wolves will be going back to defend their title. We won in Ottawa in 2004. If your interested in going, here is the schedule for payments. All of the payments are non refundable (remember that). You can get your deposit back if you can find a player that can take your place.
Seattle Wolves
2008
Roster

---
| | |
| --- | --- |
| Bob McMahon | (Sea) |
| Jack Comyn | (Sea) |
| Paul Faung | (Sea) |
| Bill Banfield | (Sea) |
| Ted Perkins | (Sea) |
| Brian Smith | (Sea) |
| Chris Simonds | (Sea) |
| John Kooy | (Sea) |
| Glen Engevik | (Sea) |
| Gavin Rushevics | (Sea) |
| John Kennedy | (Sea) |
| John McMahon | (Can) |
| Mike Boston | (Can) |
| Rob Santarossa | (Can) |
| Denis Godin | (Can) |
---
COST FOR TRIP:
Hockey:$100 per player for team fee
Other:$100 per player for retail items
Hotel:$775 per person - 7 Nights stay
Air:? Once we have exact counts, we will look into airlines.
#1.Hotel Package – Per Person Deposit – January 25, 2007
Traveling teams are required to submit a * non-refundable $100.00 per person deposit by January 25, 2007 (no grace period) by means of Visa, MasterCard, check, money order or bank transfer.
#2.Who's going? I need to know who is interested in going ASAP, so we can get an idea of the team we are taking. We have to turn in a team roster by this September 15th and the list for hotel rooms.
#3. Team Fee - $100 per player is due by May 15, 2007 * non-refundable
#4. Retail Fee - $100.00 per player is due by August 15, 2007 * non-refundable
#5. Outstanding Balances (Hotel Package and Tournament Entry) – November 15th, 2007 is the deadline for all monies due to CARHA Hockey. This includes all tournament entry fee balances & hotel land package balances. * non-refundable
---
HOTEL INFORMATION AND COST:

HOTEL REQUIREMENTS FOR TRAVELING TEAMS (1 ½ hour drive or more)

In keeping with the CARHA Hockey World Cup tradition, we will require all traveling teams

(1 ½ hour drive or more outside of Québec City) stay in the selected event hotels, with no exceptions.

Furthermore, as in past events, we are only accepting teams that will commit to the seven-night package. The reason for this is that CARHA Hockey has recently signed hotel contracts worth approximately $1 million. In addition, it is important for CARHA Hockey, as organizers, to ensure that each traveling team has confirmed and comparable accommodations.

Hotel Package: $775.00 CDN per person, based on double occupancy (two persons per room)

Includes:

First-class hotels: Hilton Québec (Host), Delta Québec and Loews Le Concorde that include:

Two double size beds or one king or queen size bed

High-speed modem connections, safety deposit box, television, mini-bar

Seven nights accommodation (taxes included)

Team pick-up and drop-off service to and from airport and your team's games

Opening Meet and Greet Reception

Sunday, March 30 th at the Québec City Convention Centre

Hot and cold hors d'oeuvres and two complimentary drinks (beer or wine)

Closing Dinner Dance Gala

Saturday, April 5 th at the Québec City Convention Centre

An elegant sit-down dinner with wine plus special guest appearance(s)

Tournament souvenir gift for each participant

---